Autumn 2010
The subject of the new series is "concepts".
Friday, 17 September 2010 – Klanggalerie t-u-b-e
Wilbert & Wolter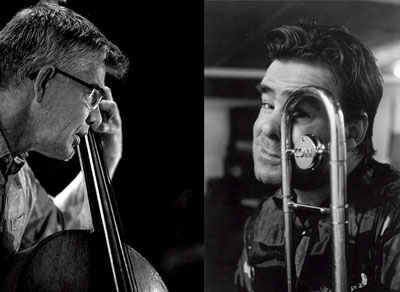 Wilbert de Joode, bass
Wolter Wierbos, trombone
Wilbert de Joode was a performer at the very first concert of Offene Ohren e.V, together with John Butcher and Martin Blume. This time he will bring along his compartiot Wolter Wierbos who is a rare guest in our city.
Their program is unusual as well as fascinating: Both play a solo first, concluding with a duet afterwards. Wilbert de Joode on their music: distinct, special, different, strange, odd, peculiar, remarkable, astonishing, curious, idiosyncratic, quirky, quaint, outlandish, bizarre, alien, extravagant, exceptional, extraordinary, extreme, eccentric ...
Organised by Offene Ohren e.V.
Tuesday, 05 October 2010 – Jazzclub Unterfahrt
Battle of Improvisers:
ICP Orchestra - Amsterdam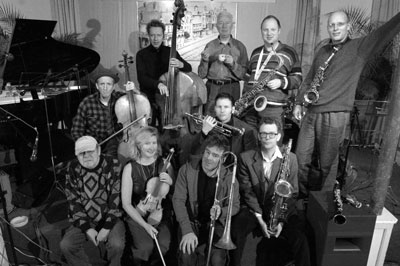 Ernst Glerum, bass
Han Bennink, drums
Tobias Delius, saxophone
Michael Moore, saxophone, clarinet
Tristan Honsinger, cello
Thomas Heberer, trombone
Misha Mengelberg, piano
Mary Oliver, viola, violin
Wolter Wierbos, trombone
Ab Baars, tenor saxophone, clarinet
Improvising is like everyday life ... like crossing the street, drummer Han Bennink explained in "Downbeat".
Founded more than forty years ago by Bennink and Misha Mengelberg, the ten-piece improvising monster ICP is like a New Orleans jazz orchestra crossing a New York street. Not even Mengelberg's unsettling piano playing can prevent the international lineup from successfully negotiating the heavy traffic and invariably reaching the other side. Over the years, the legendary collective with its absurdist tinge has evolved into brilliantly headstrong ensemble of worldwide renown.
Organised by Jazzclub Unterfahrt
Wednesday, 06 October 2010 – Jazzclub Unterfahrt
Battle of Improvisers:
ICI Ensemble - Munich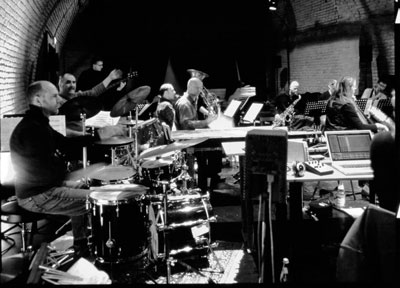 Members of ICI Ensemble:
Gunnar Geisse, laptop guitar
Leo Gmelch, tuba
Markus Heinze, saxophone, bass clarinet
Georg Janker, bass
David Jäger, saxophone
Roger Jannotta, saxophone, flute, clarinet
Sunk Pöschl, drums
Stefan Schreiber, saxophone
Christofer Varner, trombone
Johanna Varner, cello
Martin Wolfrum, piano
Munich's ICI Ensemble, too, is well on its way to acquiring a unique tradition. Based on superb genre-crossing big band improvisation, as impressively shown during this year's "Lautwechsel" festival in April, the ICI for years now has cultivated international encounters with celebrated musicians like George Lewis, Olga Neuwirth and, most recently, William Parker.
Members of both orchestras have played together but this is their first meeting in full lineup. After ICP's opening concert on October 5, both ensembles will perform together on October 6.
Organised by Jazzclub Unterfahrt
Tuesday, 19 October 2010 – Klanggalerie t-u-b-e
Sainct Laurens
Pierre-Yves Martel, prepared viola da Gamba, loudspeakers and contact microphones
Philippe Lauzier, bass clarinet, saxophone
Representing the Canadian improv scene, Pierre-Yves Martel and Philippe Lauzier can be heard for the first time in Munich. An exceptional duo that consistently eludes categorization - be it through its unusual instrumentation, its concentrated musicality beyond all norms or simply through its choice of name.
This is how the players describe their work:
Silence.
Sparse, soft feedback,
Undulating rhythms, rippling.
Continuous sounds, trusting one another
Into complex textures, developing slowly, minimally,
Precisely.
(Un)prepared sounds, old and new.
We wait with open ears!
Organised by Offene Ohren e.V.
Friday, 22 October 2010 – Klanggalerie t-u-b-e
OirTriO
Frank Gratkowski, saxophone, clarinets
Sebastian Gramss, bass
Tatsuya Nakatani, drums, percussion
Another old acquaintance will stop by: Frank Gratkowski played in duet wit Sebi Tramontana at Seidlvilla and was also invited by the Unterfahrt to ad hoc music before.
OirTriO is the palindromic name of this formation that also includes Japanese sound architect Tatsuya Nakatani and German bassist Sebastian Gramss. Gramss is a master of full and dark colors with excellent arco-technique. And to label Nakatani as a mere drummer would border on the blasphemic since he is able to elicit sound storms as well as monumental silence from his arsenal of instruments.
Organised by Offene Ohren e.V.
Wednesday, 27 October 2010 – Klanggalerie t-u-b-e
Okkyung & Peter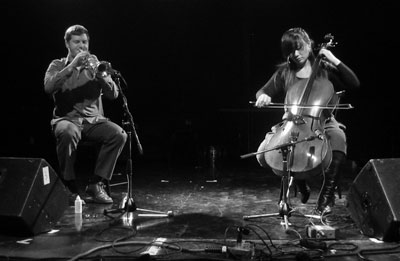 Peter Evans, trumpet
Okkyung Lee, cello
Ever since their outstanding performance at last year's "music unlimited" festival in Wels, Austria, the reappearance of power trumpeter Peter Evans in Munich was a done deal. But in the duet with Korean Okkyung Lee, he will be able to assert his subtle side as well.
Okkyung Lee's cello playing on the other hand, seems more inspired by the restlessness of New York than by Far Eastern traditions. Expertly handling her instrument, Lee proves herself as an ideal improvising partner. This is also emphasized by the diversity of her musical contacts: Laurie Anderson, Derek Bailey, John Butcher, Fred Frith, Butch Morris, Leo Smith, John Zorn, to name only a few of a very long list.
Organised by Offene Ohren e.V.
Wednesday, 24 November 2010 – Jazzclub Unterfahrt
OmniSound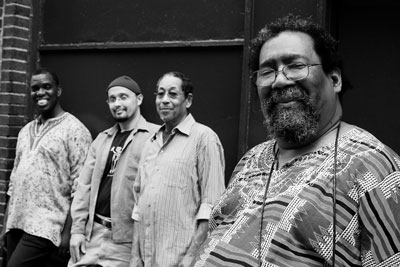 Sabir Mateen, tenor saxophone, clarinet, flute
Matt Lavelle, trombone, flugelhorn, bass clarinet
Hill Greene, bass
Warren Smith, drums
Foto: © LenaAdasheva
"OmniSound" brings us four key musicians of the New York improv scene whose main focus is on the black jazz tradtion.
Sabir Mateen was a longtime member of "Parliament/Funkadelic" and also works with Thurston Moore of Sonic Youth in the project "Test". Through his collaborations with a.o. Areatha Franklin, Janis Joplin or Marvin Gaye, Warren Smith has written rock and soul history. Hilliard Greene has been Charles Gayle's musical partner for years. Matt Lavelle's scope of action is equally impressive, a.o. he was involved in William Parker's "Little Huey Orchestra".
Organised by Jazzclub Unterfahrt
Friday, 03 December 2010 – Klanggalerie t-u-b-e
Stellari String Quartet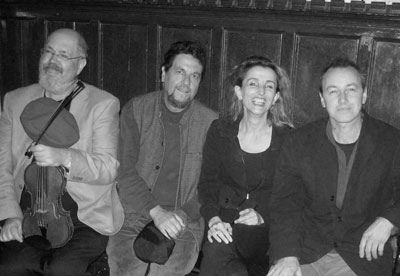 Phil Wachsmann, violin
Marcio Mattos, cello
Charlotte Hug, viola
John Edwards, bass
The string quartet - epitome of the identity of classical music? At the very least, Stellari's concert should prove that this lineup is also suited for experimental excursions using microtonality, dissonances, subtle nuances, harmonic interference, noise and silence.
All four members of the quartet have been featured with different fellow musicians in concerts of Offene Ohren e.V., so their phenomenal musicality needs no introduction here. What is special, though, is the somnabulistic accuracy of communication and the ease of sonic creation. The music sounds as if composed but is always irretrievable and unique.
Organised by Offene Ohren e.V.
Wenesday, 08 December 2010 – Jazzclub Unterfahrt
Ig Henneman Sextet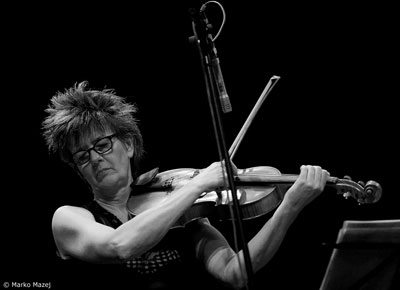 Ig Henneman, viola, composition
Not in the photo:
Ab Baars, tenor saxophone, clarinet, shakuhachi
Axel Dörner, trumpet
Lori Freedman, bass clarinet, clarinet
Wilbert de Joode, bass
Marilyn Lerner, piano
Foto: © Marko Mazej
"Ig Henneman Sextet - In tribute to ..."
Between the poles of composition and improvisation, of tradition and innovation a fascinatingly uncommon music emerges that can hardly be compared to anything else in contemporary jazz. - Emanuel Wenger
Her compositions inspire performances which are anything but ordinary, the collective improvising often breathtaking. The balance between melody and abstraction, rhythmic drive and ballad tones, keeps it all sounding brilliantly right. - Doug Lang
Organised by Jazzclub Unterfahrt
Wednesday, 15 December 2010 – Jazzclub Unterfahrt
Schlippenbach Trio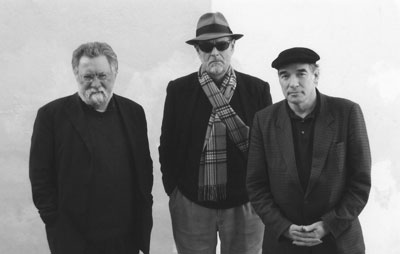 Evan Parker, saxophone
Alexander von Schlippenbach, piano
Paul Lovens, percussion
The "Schlippenbach Trio" has written European free jazz history with a music that swings. Today it is one of the longest-standing collectives of improvised music.
What becomes apparent during each of its concerts is the huge variety of jointly acquired knowledge. Schlippenbach's collective approach to improvisation challenges the musical lawmakers who only want to rely on unique happenings. This is what makes the trio's music so wonderful: intensity and density, sonic mountains and quiet horizons, drawn from a well-stocked treasure chest of common playing experiences. - Christian Broecking
Organised by Jazzclub Unterfahrt