ad hoc music 2012
We are glad to announce the eighth edition of ad hoc music. This year's focus will be on communication. Read more in the editorial.
Thursday, 20 September 2012 – Jazzclub Unterfahrt
Evans - Fernandez - Gustafsson
Peter Evans, trumpet
Mats Gustafsson, saxophones etc.
Agustí Fernandez, piano
"This project refers to dinosaur droppings, a much prized fossil. Indeed, the group's sound (which is occasionally musical) draws from minimal improvisation, noise, and plenty of surprise.
All three players are part of the cutting-edge tradition of improvised music: Gustafsson is regarded as the heir apparent to Peter Brötzmann; Spaniard Fernández has been heard most recently with both Evan Parker and Barry Guy; and Evans is a jazz trumpet wunderkind who is featured in Mostly Other People Do The Killing, as well as projects by Parker, Okkyung Lee, and Mary Halvorson.
As an archeological project, this recording is a rare artifact, documenting the collaboration of three important improvisers whose technique is paraded on each track. Sometimes they choose to walk a minimalist line, Fernández exploring the piano's insides - much of the time mimicking a percussionist - while Gustafsson and Evans play with breathy sounds. In other spots, Gustafsson delivers his now-patented shout-smack saxophone punch and Evans brings his growling rumbles.
Without the persistence of beat or the bounds of meter, the trio is free to exercise some serious kopros noise-making, Some may think these challenging sounds merde, others an instant archaeological treasure.
(Mark Corroto)
Organised by Förderkreis Jazz und Malerei München e.V.
Thursday, 08 November 2012 – Jazzclub Unterfahrt
The Deciders
Rudi Mahall, contrabass clarinet
Axel Dörner, trumpet
Ole Morten Vågan, bass
Jon Fält, drums
Frederik Ljungqvist, clarinet, saxophone
photo © Stein Hofve 2011
The Deciders are a new jazz conglomerate, uniting key players from three hotspots in european music - Berlin, Stockholm and Oslo.
The famed Berlin duo of Rudi Mahall and Axel Dörner have put their mark on the european jazz scene for a couple of decades already, through their work in Die Entausschung/Monk´s Casino, Globe Unity Orchestra, and a wide range of other constellations.
Swedes Fredrik Ljungkvist and Jon Fält have been amongst the most celebrated musicians on the Stockholm scene, separately, in ensembles like Atomic and the Bobo Stenson Trio, but also together in a.o. Ljungkvist´s Yun Kan 5.
From Oslo, bass player Ole Morten Vågan has made a strong impact on the norwegian jazz scene for the last ten years or so, for groups like Motif, Håvard Wiik Trio and Bugge Wesseltofts NCOJ.
Here, the musicians join forces, creating a fascinating blend of improvisation and quirky compositions - The Deciders!
Organised by Förderkreis Jazz und Malerei München e.V.
Monday, 12 November 2012 – MUG
Doneda-Achiary-Lovens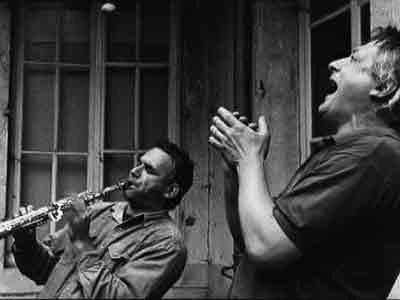 Michel Doneda, soprano saxophone
Beñat Achiary, chant
Paul Lovens, perkussion / drums (not in the photo)
photo © Patrick Fabre
Beñat Achiary's life has been continuously defined by singing, as he insists, his first influence being the music of his native Basque country. Starting from the rich traditions of his background, he soon discovered improvisation and succeeded in turning  ethical and improsational elements into a whole of complementary elements.
The musical friendship between Achiary and Doneda goes back to Michel Doneda's debut album Terra (1985) which among other things offered a fantastic duo of these unbending individualists.  Doneda considers himself a craftsman rather than the representative of a cultural elite, an attitude revealed in the immediacy and straightforwardness of his playing.
The inclusion of Paul Lovens as a third protagonist for this trio's short tour is the realization of a long-cherished dream. It is a great pleasure and an honor for Offene Ohren to present this fresh and unusual constellation for the first time ever. As a subtle observer with an intuition for the synergy of archaic and improvised elements, Paul Lovens will be in an ideal position to provide the counterpoint for this exceptional alliance.
Organised by Offene Ohren e.V.
Wednesday, 14 November 2012 – MUG
Subtle Lip Can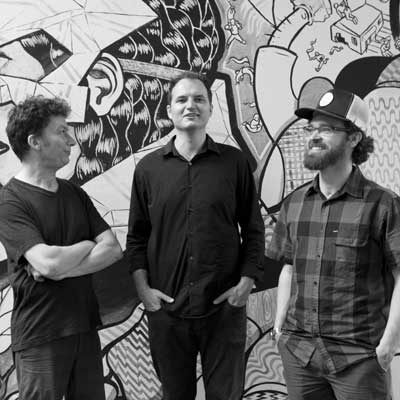 Bernard Falaise, guitar
Isaiah Ceccarelli, drums
Joshua Zubot, violine

Subtle Lip Can came about on a cold Tuesday night during Mardi Spaghetti,  an improvised music series by Montreal's music stage Le Cagibi.
The resulting sound was so natural, new and fresh, that the participating musicans decided on the spot to continue as a permanent trio. Bernard Falaise, Joshua Zubot and Isaiah Ceccarelli called their group Subtle Lip Can.
All three hail from the vibrant improv scene of Montreal. Together they developed a distinctive vocabulary of sounds that are bent, squeezed, crumpled, toasted and flash-frozen, making for a wholly new listening experience. The structures they create are unique and involve large dynamics ranging from contemplative soundscapes to frenetic eruptions.
With one live CD already to their credit, these promising newcomers have set out for their first European tour.
Organised by Offene Ohren e.V.
Thursday, 15 November 2012 – MUG
pick up objects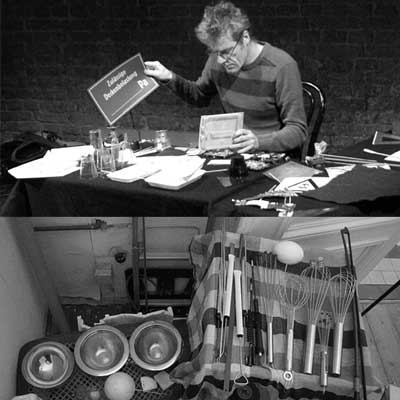 Pascal Battus, pick ups photo © Hannes Schneider
Olivier Toulemonde, objects
Pick up objects is a project specifically developed for ad hoc music by French sound researchers Pascal Battus and Olivier Toulemonde. After an introduction to their respective acoustic worlds, they will explore common ground, accentuate differences and dovetail their arsenal of tools to realize a dialog of bizarre sonic worlds.
Pascal Battus already performed at Offene Ohren in another duet with the saxophone player Christine Sehnaoui-Abdelnour. This time though, the rotating sound generators he then used are replaced by pick-up microphones, bringing to life normally inaudible sounds and granting access to a fascinating, but normally unheeded everyday world.
Olivier Toulemonde, who currently lives in Berlin, is interested in the relationship of sound and space. In 1993 he was cofounder of the 20-piece ensemble Collectif Ishtar including experimental musicians and dancers alike.  The influence of these two factors - dance and experiment - is reflected in his current work. The specifics of a given performance space and the use of outlandish sound generators will give rise to visually surprising results as well.
These two experimental individualists only rarely appear together. All the more reason to look forward anxiously to this encounter at the MUG!
Organised by Offene Ohren e.V.
Friday, 30 November 2012 – MUG
Blume-Houtkamp-Russell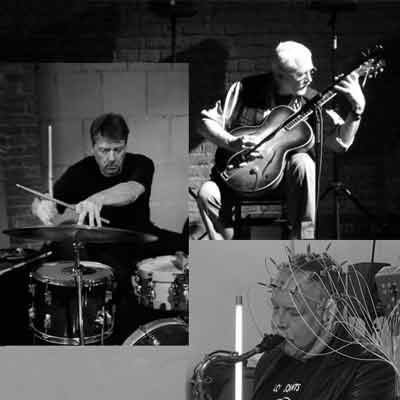 Martin Blume, drums photo © Hannes Schneider
John Russell, guitar
Luc Houtkamp, tenor saxophone

Three old friends from the very beginning of Offene Ohren (2005) come together for the first time. While John Russell has been active at the MUG already - his workshop in 2009 is fondly remembered by all involved - it is high time, we think, for Martin and Luc to reappear here in Munich.
Drawing on experiences with computer music, electronics and genre-transcending ensemble projects, Luc Houtkamp will nonetheless bring to the fore the "analog" aspect of his saxophone playing here.
His equal partners in crime are Martin Blume and John Russell whose music vocabulary, technical authority and intellectual brilliance are bound to translate into a scintillating performance.
A superb ending for the eighth edition of ad hoc music 2012. Here's to a rich crop in 2013!
Organised by Offene Ohren e.V.
The organisers would like to thank the Kulturreferat München for its continuous help allowing to present the eight edition of ad hoc music.