ad hoc music 2013
We are glad to announce the ninth edition of ad hoc music. This year's focus will be on exchange. Read more in the editorial.

Friday, 18 October 2013 - MUG
low voice - high flow
Christian Weber - bass
Carl Ludwig Hübsch - tuba
Ninh Lê Quan - bass drum, percussion
Photos for collage: JuanCarlos Hernandez, Cees van de Ven, Peter Gannushkin
A brandnew trio opens the "Exchange" season of ad hoc music in 2013. Accordingly, communication and exchange are the key concepts for the interaction of these improvisers, who can draw on personal friendship and a technical mastership acquired through years of experience to engage in a joyful dialogue.
Tuba, bass and big drum - so many deep sounds sound like deep thinking. As a matter of fact, German Carl Ludwig Hübsch, Swiss Christian Weber and Frenchman Ninh Le Quan are able to produce a dense web of communication with their low-range equipment.
Through the use of self-developed playing techniques never heard before, the instrumensts reach unexpected pitches. But even working in the traditional sound spectrum, the three improvisers play a dynamic music, at once harmonious and distinctive, fascinating and full of surprising turns.
Organised by Offene Ohren e.V.
Sunday, 27 October 2013 - MUG
XuBaby plus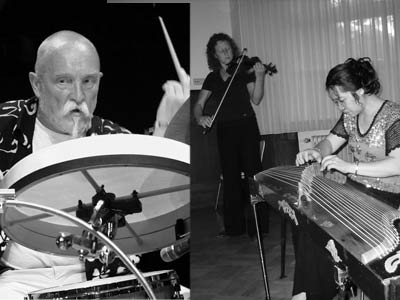 Günter Baby Sommer - drums
Gunda Gottschalk - violin
Xu Fengxia, guzheng, sanxiang, voice
Photo left © Michael Hoefner
Photo right © Hannes Schneider
Two thirds of this trio appeared at the opening concert of the first ad hoc music festival in 2005. Then still at the Seidlvilla in Schwabing, the duo You Lan showcased an encounter of the Chinese gusheng and the European violin full of improvisation, emotion and raw intensity.
This time around the two power women have joined forces with a drummer who can arguably be described as the most representative figure of all-German "jatz". Technical mastership, humor, exuberant inventiveness, instrumental diversity, empathy for all kinds of musical partnerships - all these are Baby Sommer's trademarks.
These three strong personalities are a sure bet for a memorable concert highlight!
Organised by Offene Ohren e.V.
Thursday, 31 October 2013 - MUG
Niklas + Taku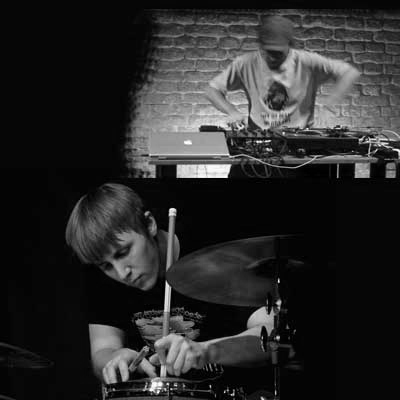 Niklas Wandt - Schlagzeug
Foto © Stephan von Knobloch
Taku Mizuta Lippit - Turntable
Embracing an exchange of cultures (West vs. East), musical coneptions (analog instrument vs. sampling/reconstruction), sound sources (acoustic vs. electric), Niklas and Taku promise to bring us a thrilling dialogue full of variety. Niklas Wandt was recommended to us by Paul Hubweber, himself a duo partner of Taku as well as Niklas. This fresh young drummer from Cologne jumped into Free Jazz head over heels as a fourteen-year-old via Albert Ayler and Peter Brötzmann's Machine Gun.
An ideal counterpart, then, for Takuro Mizuta aka DJ Sniff. Born in California, raised in Tokyo, having worked at the STEIM in Amsterdam, and currently living in Hong Kong, Taku is a true cosmopolitan and musical free spirit transcending all categories. Taku's most successful projects include performances with percussionists, among others with Tatsuhisa Yamamoto and Mark Sanders.
We have high expectations for this new duo of drums & turntables!
Organised by Offene Ohren e.V.
Saturday, 30 November 2013 - MUG
Foils Quartet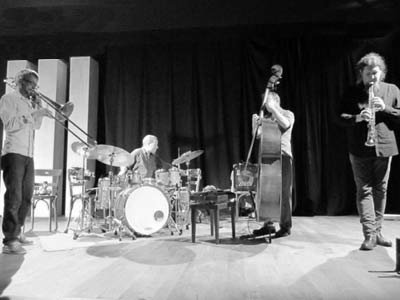 Matthias Müller - trombone
Mark Sanders - drums
John Edwards - bass
Frank Paul Schubert - saxophones
Complex, subtle interplay, occasionally interspiced with ferocious eruptions, will conclude the Offen Ohren contributions to ad hoc music 2013 at MUG in late November.
Berlin musicians Frank Paul Schubert and Matthias Müller have been working as a duo since 2008, after having met in diverse constellations of the Berlin scene.
With Foils, they restrict themselves to the unusual lineup of soprano saxophone and trombone. Avoiding superficial contrasts as suggested by the instruments, they rely on a blending of sounds instead. Despite their agility and turbulence both voices manage to achieve a homogenous sonic flow with more of a textural than a narrative character.
An at least as unconventional lineup is the duo of drummer Mark Sanders and bassist John Edwards. Since the nineties both are ranked among the most creative and prominent protagonists of the British improv scene. Their brilliant teamwork can be heard in trios as well, for instance with Evan Parker and Veryan Weston.
In 2011 the idea emerged to bring the two duos together to form the Foils Quartet, resulting in a highly original example of the contemporary art of improvisation.
Organised by Offene Ohren e.V.
Tuesday, 10 December 2013 - Jazzclub Unterfahrt
Schlippenbach Trio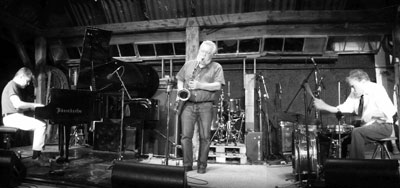 Alexander von Schlippenbach, piano
Evan Parker, saxophone
Paul Lovens, percussion
Photos © Hannes Schneider
The final concert of the ad hoc music series continues an old tradition. Pianist Alexander von Schlippenbach visits Munich during his annual winter journey with Evan Parker on saxophone and Paul Lovens on diverse drums and percussion instruments.
Now in it's 43rd year of existence, this group still has a lot to tell to each other - as could be heard and seen most recently in July at the Festival Konfrontationen in Nickelsdorf, Austria.
The Schlippenbach Trio delighted visitors of the festival across all generations with its electrifying, at once ecstatic and structured performance - avoiding all Monk quotations.
Entrance fee: 15 €, members of Förderverein Jazz und Malerei e.V. 7,50 €, members of Offene Ohren e.V. 10 €
Beginning of the concert at Jazzclub Unterfahrt: 9.00 p.m.
Organised by Förderkreis Jazz und Malerei München e.V.
The organisers would like to thank the Kulturreferat München for its continuous help allowing to present the ninth edition of ad hoc music.
Modifications may occur and will be published on this site.